ADMISSION ONLY: $6 (save $3 with this printout)
Children under 12 FREE
8am Pre-Show Admission: $25 ($15 with this printout)
SELECT VENDOR UPDATE:
1) Barry S. (The Bronx): A few nice new 45's in stock! Lots of in demand 45's on hand... Soul, Blues, Funk, New Breed, Popcorn, Vocal Groups (including Girl Groups), Boogaloo/Latin, Garage, Rockers, Instros, Hillbilly, Teeners and more... Also, a box of Mixed LP's at great Prices! (Soul/R&B, Latin, Jazz, etc). Always buying so if you got good quality 45's and LP's bring them over.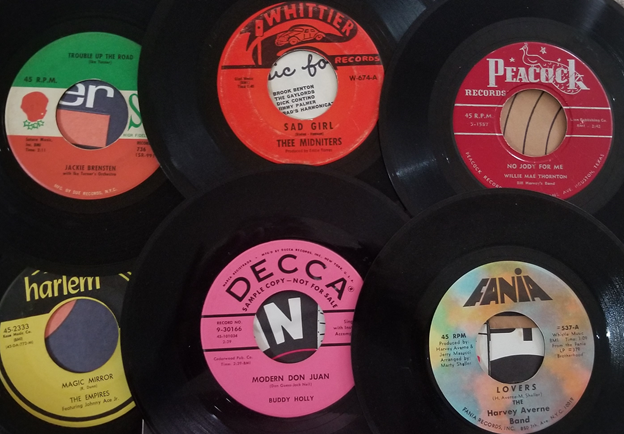 2) Bruce D. (NY): RETURNS. Boxes and boxes of Soul 45's. Plus, Reggae 45's, Latin 45's, Girls and Girl Group 45's, British Invasion and Freakbeat 45's, Garage, Instro, and Primo Sunshine Pop 45's. Motown 45's and EP's.
3) Nobuo M. (NY): 7 & 12 inch's - Japan pressing records of US Pop, Blues, Rock and Japanese artists from the 60-80's.
4) Michael Y. (NY): Many NEW LP's - Rock, Soul, Jazz, Blues, Movie Soundtracks...all at Great Prices! Also rare Latin LP's. Many NEW music Books. DVD's and lots of NEW 45's.
5) Danny Z. (NY): FIRST TIME. Almost 5000 45's - R&B, Blues, Rock, Group.
6) Bob W. (NY): LP's - Jazz, Soul, Rock, Funk.
7) Seastone Records (NY): Lots of $1 LP's and CD's. Also priced budget LP's and 45's.
8) Fred H. (NJ): FIRST TIME. 45's - Rock, Oldies, UK Imports. Sheet Music. Press Kits - TV Related. 1 Sheet Movies Posters - 80's and 90's. Original Pinup Posters from the 70's. Magazines 80's TV and related.
9) Paul A. (LI): LP's: Rory Gallagher, Dylan, Hendrix, Tim Buckley, King Crimson, Beach Boys, Eagles, ELO, Clapton, Stones, Hamza El Din, George Duke, Lee Morgan, Miles, Art Ensemble of Chicago, Stanley Cowell, Fatback Band, Ray Charles, Leslie West, Elvis, Tommy Bolin, Barrabas, Morton Subotnick, Crown Heights Affair, Alan Parsons, George Harrison, Jefferson Airplane, Doobies, Little Feat, George Benson, JBs International, Traffic, Springsteen, Vernon Burch, Nighthawks, Moments, Mike Castillo, Skynyrd, Doris Day, Alan Holdsworth, Masked Marauders, James Wells, Christie, Clifford Jordan....
CD's: Smiths, Pretenders, Ray LaMontagne, Raconteurs, Flamin' Groovies, Ann Peebles....
DVD's: assorted Heavy Metal titles.
45's: 100s priced $10 or less...
10) Marc C. (NY): Lot's of 45's...Blowout Sale...45's for 45 Cents Each! Lots of NEW $4 / 3 for $10 LP's. 2-3 Boxes of NEW CD's.
11) Fred (NJ): $3 CD's / 2 for $5: Rock, Jazz, Soul, Country, Blues, Rap, Classical. Tour Books, Ticket Stubs, Autographed CD's, Handbills.